The Open Group祝您鸿运当头,牛气冲天!
Dear Members and Colleagues of The Open Group Family, 
The Open Group大家庭的各位会员和同事:
Chinese New Year's greetings from The Open Group APAC Office!
来自The Open Group亚太区办公室的新春问候!
One twelfth of the year 2021 has ticked by, we hope you are all on the right track of fulfilling your New Year's resolutions, here in China we are celebrating the Spring Festival, a.k.a. Chinese New Year, the most important celebration of the year filled with great food and lots of laughter and love enjoyed over family get-togethers, remembering the highlights of the past year as well as our ambitions and aspirations for the coming year.
光阴荏苒,2021年转眼已过十二分之一,愿各位的新年flag仍然坚挺,中国农历新年即将来临,对于中国而言,这意味着与家人欢度新春佳节,享受美食,阖家团圆,回首过去一年的高光时刻,畅叙新一年的希望和梦想。
So let's follow tradition, and let me wish you a, "Happy Chinese New Year", and start recapping the year 2020...
在中国的我们自然要入乡随俗,在岁首年终献上一句"欢乐中国年,福气永相随",回顾2020年的精彩……
We have sailed through a troubled sea as the COVID-19 pandemic wind swept around the world and cast shadows of anxiety and uncertainty on nations and people; however, the sudden pause in daily commuting, domestic and international travel and basic face to face socializing has offered us time to think about how important human contact and resilience is, and to identify what really matters for us, for our families and for our work. 
长风破浪会有时,直挂云帆济沧海。席卷全球的新冠疫情将全球笼罩在不安和焦虑的阴云之下,然而,当每日通勤、国内和国际飞行,面对面的社交突然按下暂停键,我们得以有闲暇思考人际关系和韧性的价值,对于我们个人,我们的家庭和工作而言,真正重要的是什么。
Despite the difficulties in the past year, the year 2020 was remarkable for The Open Group—both worldwide and in China, thanks to all our Members and staff, and all partners and contributors. There have been over 800 memberships from over 50 geographies worldwide by the end of 2020 who are actively engaged in our Work Groups, Forums, Consortia and numerous events. The number of professionals certified under TOGAF® Standard: Certification for People program surpassed 100,000, another achievement to celebrate. 
虽历经种种不易,但我们的会员、员工、合作伙伴及其他贡献者的精诚努力,使2020年成为The Open Group全球,以及中国区值得铭记的一年,感谢你们。截至2020年底,全球已有50余个国家和地区的800多家会员活跃于我们的各个工作组、论坛、联盟和多种多样的活动,在TOGAF® 面向个人的认证项目框架下,已有超过10万名专业人士取得认证,可喜可贺。
​
Our portfolio of standards further expanded with the publication of the Open Process Automation™ Standard, Version 2.0 (O-PAS™) and Open Agile Architecture™, (O-AA™) which deliver substantial value for practitioners in relevant fields.
随着开放流程自动化(O-PAS™)标准2.0版和开放敏捷架构™(O-AA™)发布,我们的标准系列进一步扩充,这将为相关领域的从业者带来巨大的实际价值。

​
This message would not be complete without mentioning the development of The Architects Toolkit, the publication of the Principles for Digital Standards and the creation of the ArchiMate® User Community and the Open Footprint™ Forum. These very exciting activities are delivering benefits for EA practitioners as well as the business and technology communities in general. 
当然不能忽略架构师工具包(The Architect's Toolkit)的开发,数字化标准原则的发布、ArchiMate® 用户社区和开放足迹™ 论坛的创建,各项活动正积极推进,使广大企业架构从业者乃至整个商业和技术领域从中获益。
Another milestone is the strategic collaboration between The Open Group and the International Telecommunication Union (ITU) in an effort to innovate public service and accelerate transformation for better citizen outcomes and optimal use of ICT infrastructure in resource-constrained countries, evidencing that countries able to yield the best outcomes from digital investments are those that have created and adopted a fit-for-purpose digital government Enterprise Architecture.
另外一个里程碑是The Open Group与联合国国际电信联盟开展战略合作,创新公共服务并加速转型,从而改善公民生活,在资源受限的国家实现信息及电信基础设施的高效利用,这显示了那些建立和实施符合目的的数字政府企业架构的国家能够从数字投资中获得最佳成果。
Building on an already prominent presence in the oil and gas industry through the OSDU™ Forum and the Open Process Automation™ Forum, we were privileged to announce our partnership with the International Association of Oil & Gas Producers aiming at aligning our common goals of adding significant value to the Oil and Gas industry through the creation and promotion of technology standards. 
通过OSDU™ 论坛和开发流程自动化™ 论坛,我们在石油天然气领域成果斐然,我们荣幸地宣布:The Open Group与国际油气生产者协会启动合作伙伴关系,我们的一致目标是通过技术标准的创建和宣贯为石油天然气行业创造附加价值。

​
Speaking here from our APAC Office, I would enthusiastically reach out within China, to invite your participation which will add value for the national agenda and for The Open Group. Participation is a powerful statement of your thought leadership, technological excellence and social responsibility. 
The Open Group亚太区办公室诚挚邀请中国的各位伙伴踊跃参与活动,这不仅将为国家层面发展战略,也为The Open Group创造价值,也将证明您作为思想领袖,技术卓越者和社会责任先导者的地位。
China is a country of strong economic resilience with confident, self-disciplined and responsible people, it is the first major economy to achieve positive growth in its managed post-pandemic environment. We are delighted to see ongoing efforts and leadership for digital transformation and intelligent enterprises as key enabler of high-quality development. The top-level awareness of IPR protection as a national strategy and the adoption of TOGAF and ArchiMate in references to a layered architectural framework following EA principles in Notice on the Publication of Reference Architecture for Intelligent Enterprise Construction issued by China Enterprise Confederation and China Enterprise Directors Association issued in November 2020, all of which have given us reasons to be optimistic and ambitious. 
中国拥有坚韧的经济和自信、自律、富有责任感的人民,得益于精准施策打造优良环境,中国已成为疫后首个实现正增长的主要经济体。我们欣喜地看到:作为高质量发展的赋能因素,数字化转型和智慧企业领域迸发出蓬勃的干劲和领导力,知识产权保护得到政府高层的重视并成为国家战略。在中国企业联合会和中国企业家协会2020年11月发布的《关于印发<智慧企业建设参考架构>的通知中》,提及"采用TOGAF开发方法并参考架构建模语言ArchiMate中的架构分层框架",这些使我们有理由乐观,并且展开更富于雄心和远见的计划。
In terms of our memberships from enterprises headquartered in China, 2020 has been stable, from state owned enterprise to Fortune 500 companies, to local private entities. With more focus on continuous improvement in membership services and development of quality membership relations, our members have been actively engaged in forum activities and localization projects this year with 27 local experts, a remarkable growth from 7 in 2019. Besides, business insights, technological evolutions and best practices in various verticals were shared by our members, a substantial contribution to the advancement of digital transformation in China which has also in turn inspired the global community. 
从总部位于中国的企业会员数量来看,2020年是稳扎稳打的一年,我们的会员覆盖了国有企业、500强企业和本土民营企业。同时,我们更加注重会员服务的持续改善和培育高质量的会员关系。这一年中,我们的会员踊跃参加论坛活动和本地化项目,27位本地专家(其中33%来自华为)领衔开展本地化项目,与2019年的7位专家相比,人数显著增加。此外,我们的会员也积极分享业务洞察、技术演进和各个垂直行业的最佳实践,这不仅切实推动了中国的数字化转型浪潮,也赋予全球社区以启发和灵感。
We would like to congratulate the individuals who were certified in 2020, in China. TOGAF remains the hottest certification among EA practitioners, an indication that more diversified and relevant specializations can be developed on this basis.  We also see certifications demand for other standards, specifications and frameworks of The Open Group. 
热烈祝贺2020年在中国区取得认证的各位专业人士。TOGAF仍是最受EA从业者追捧的认证项目,这意味着以此为契机可以延展出更加丰富,切合实际需求的专业化项目,我们也看到,基于The Open Group其他重要标准、规范和框架的认证需求同样方兴未艾。
We continued to add Accredited Training Course Providers and their courses in 2020. We are looking at innovative ways to increase our collaboration through better alignment of quality and goals. ATCs are valued enablers of the local EA ecosystem. 
2020年,我们的认证培训课程提供商(ATC)及课程数量持续增加。我们正努力寻求创新之道,为我们的合作注入活力,使质量和目标更加一致,协作更加富有成效。我们珍视ATC的价值,ATC是本土EA生态系统中的重要赋能者。
Our successful launch of the redesigned Chinese-language website of The Open Group, brought about a significant increase in page views and publication downloads, consistently placing traffic from China in the top 3 for our organization globally. This is accompanied by the vibrant localization activities where our members have played a key role in delivering relevant content to the market. The omni-channel communication with a special focus on WeChat and Weibo, the most influential social media in China, is enhancing the awareness of the value of EA as a key enabler in the era of digitalization and of the leadership role of The Open Group in the development of technology standards and certifications in this field. 
The Open Group中文网站改版并成功上线后,浏览量和出版物下载量均有显著提升,使中国稳居The Open Group全球网站流量前三。同时,会员积极参与本地化项目,在产出面向市场的高价值内容中起到关键作用。以中国最具影响力的社交媒体——微信和微博——为抓手,展开全渠道沟通,提升了公众对企业架构作为数字化时代的关键赋能者的认识,也扩大了The Open Group的知名度,使作为该领域内技术标准和认证制定者,发挥领导力的The Open Group愈加受到瞩目。
In 2020 we had to switch from a mix of online and offline meetings to only webinars and online conferences. Thanks to the clear thinking, agility and adaptability which are typical of the Chinese staff operating our business from Shanghai, we made the best of the forced shift to only virtual and hosted monthly webinars on a series of highly relevant and intriguing topics including Enterprise Business Security enabled by TOGAF® and IT4IT®, event-driven architecture, privacy design, data governance, data label and data catalog system and best practices of EA frameworks in digital transformation.
2020年,我们的线下+线下会议全部转为webinar和线上会议。得益于我们亚太区办公室的中国同事清晰的思路、敏捷和适应力,我们在全部以线上方式举办的会议活动中挖掘亮点,每月举行webinar,包括TOGAF® 和IT4IT™ 赋能企业业务安全、事件驱动架构、隐私设计、数据治理、数据标签和数据目录系统、企业架构框架在数字转型中的最佳实践在内的一系列主题贴近现实需求,激发了参会者的广泛兴趣。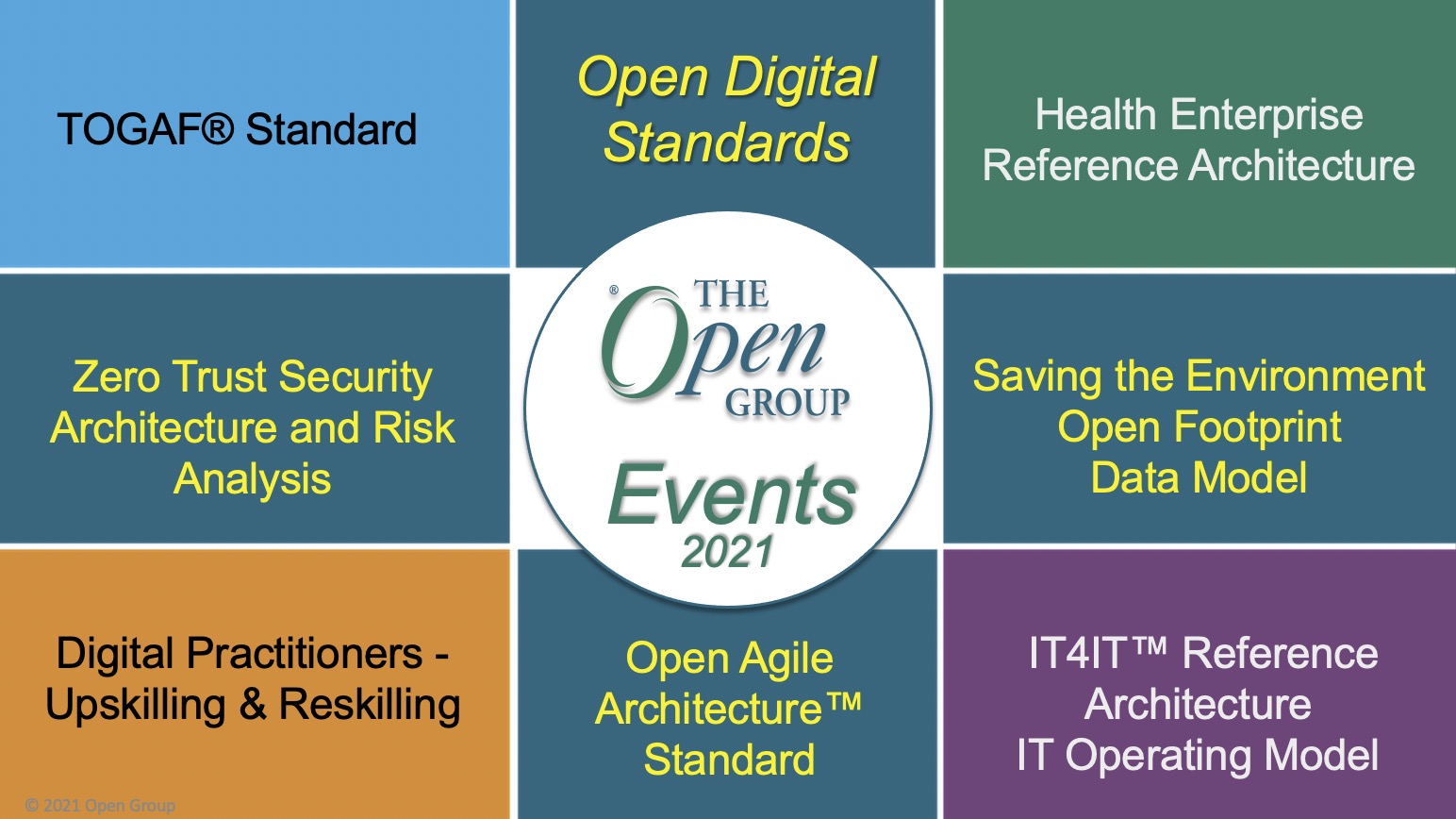 ​
Two years ago our 2019 Annual Conference celebrated the 10th anniversary of The Open Group's presence in China. In 2020 our purely online conference increased the breadth of attendees and depths of topics with "Digital First" as its theme, this virtual event allowed us to reach out to a wider audience in this digital era. Highlights of the 3-day event included Open Agile Architecture, digital standards, digital first business model as well as cases of EA practice in various industrial verticals, sparking off interactions on social media, a reason to stay optimistic and continue with innovative ways of inspiring one another through knowledge and experience sharing. Of course we all wish to restart our face to face engagements as soon as possible in 2021 and look forward to seeing you all again in person.
仍记得两年前的 2019 The Open Group年度大会,业内同仁共庆The Open Group在中国乘风破浪十周年,而以"数字优先"为主题,完全在线上举行的2020年大会同样精彩纷呈,参会人数创下新高,议题深度傲视群雄。在数字化时代,虚拟会议使我们触达更多受众。为期三天的会议涵盖了开放敏捷架构、数字化标准、数字优先业务模型以及不同垂直行业的EA最佳实践等主题,干货满满,社交媒体上的后续讨论也十分热烈。这激励我们以更加乐观积极的态度,以更具创新力的方式分享知识和经验,彼此启迪,迸发灵感。当然,我们都真诚期待在2021年能够尽早重启线下活动,热切盼望与大家相聚。
Dear Colleagues and Members, as the Chinese saying goes, "amidst the gales the strength of grass is known", in this time where the only thing certain is uncertainty, your innovative mind, agility, resilience and commitment to excellence is demonstrated, and I am humbled to work with you, both as colleagues and as our trusted partners. 
亲爱的同事和会员,正如中国谚语"疾风知劲草"传达的意境,在"唯一确定的事情就是不确定性"的今天,你们展现出创新图变、敏捷坚韧,追求卓越,拥抱考验的风采。我们是同事,是同行,也是同心同德,彼此信赖的伙伴,与各位共事令我深感荣幸。
Of course I don't know what is ahead in 2021, the lunar year of ox, but believe that with hard work in pursuit of professional excellence, having an the attitude to do the right things and do things right, and understanding the human side of technology necessary to serve the wellbeing of people, our society and our planet, every day may promise its share of happiness to each of us. 
牛年,2021,蕴含着怎样的惊喜,我不知道,但我们相信:精诚所至的专业追求,行善事,善行事的职业态度和以技术服务人类,造福社会,关爱地球家园的人文温度,将让日日是好日,事事皆胜意。
We wish you a year of health, happiness and prosperity in 2021! May your ambitions translate into accomplishments, and your days filled with love and dreams. 
祝各位2021牛年大吉,体壮如牛,生活好福气,事业好牛气!每个心愿都成就美满,每个日子都洋溢爱和梦想。
The Open Group APAC Office 
The Open Group 亚太区办公室 敬上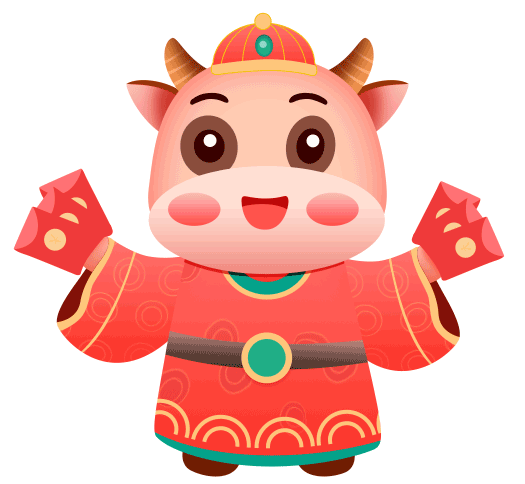 ​